Paced Email AppSumo Lifetime Deal: Organize Email with Ease [$59 Only]
Last Updated on June 11, 2022
An email is an essential tool for communication. But while working, frequent notification distracts your productivity. In contrast, without notification, you will miss announcements, notices or updates. Isn't it too troublesome? Well, no worries! I am here to give you a solution with a highly needed tool, Paced Email.
What if you get a lifetime deal that removes this problem with a single tool? Here is Paced Email that lets you create your email aliases and email digests to reduce distractions, organize your inbox, and protect your online privacy.
Thousands of people use this and are more focused on having no pop-ups or notifications of unnecessary emails. You also should join with these successful people to bring your highest productivity. So, why are you lagging? Go through the whole review and get it now!
A Glimpse of Paced Email
Paced Email simply bundles your emails into a single digest to organize your inbox and not distract you over time. It is a lifetime deal of Appsumo product, which makes email management interesting to you.
It is kind of the same as Burner Mail. But Paced Email is easier than Burner Mail. You will see the comparison soon in this write-up.
What Does Paced Email Offer?
Paced Email offers a lifetime deal that gives you scope to get batch emails at your flexible time. It can be daily, weekly or monthly. Suppose, you can check your newsletters at the breakfast time.
It helps to keep an eye on your important messages without checking lots of unnecessary emails every day. Now, it's helping thousands of people across the globe to save their time!
By scheduling and summarizing your emails, it offers secured email aliases to keep them in a summarized structure.
Why Should You Use Paced Email?
Paced email is an easy and organized tool. It keeps your inbox manageable. You can set aside non-prioritized emails and then receive a digest in your free time. Your email is always accessible in your online mailbox. It keeps everything nice and clear.
This cheap and easy Appsumo product offers lifetime support and you will be overwhelmed by noticing what precedent they are established!
Clients are satisfied and give their best reviews on Paced Email's website. See what makes them satisfied. Here are some important reasons why you also should use this amazing tool:
Bundles Emails into Digest
Affordable Pricing
Protecting Online Privacy
Generating Burner Email
Fully Customizable Emal Adress
Custom Rules for Inbound Emails
Extension for Major Browsers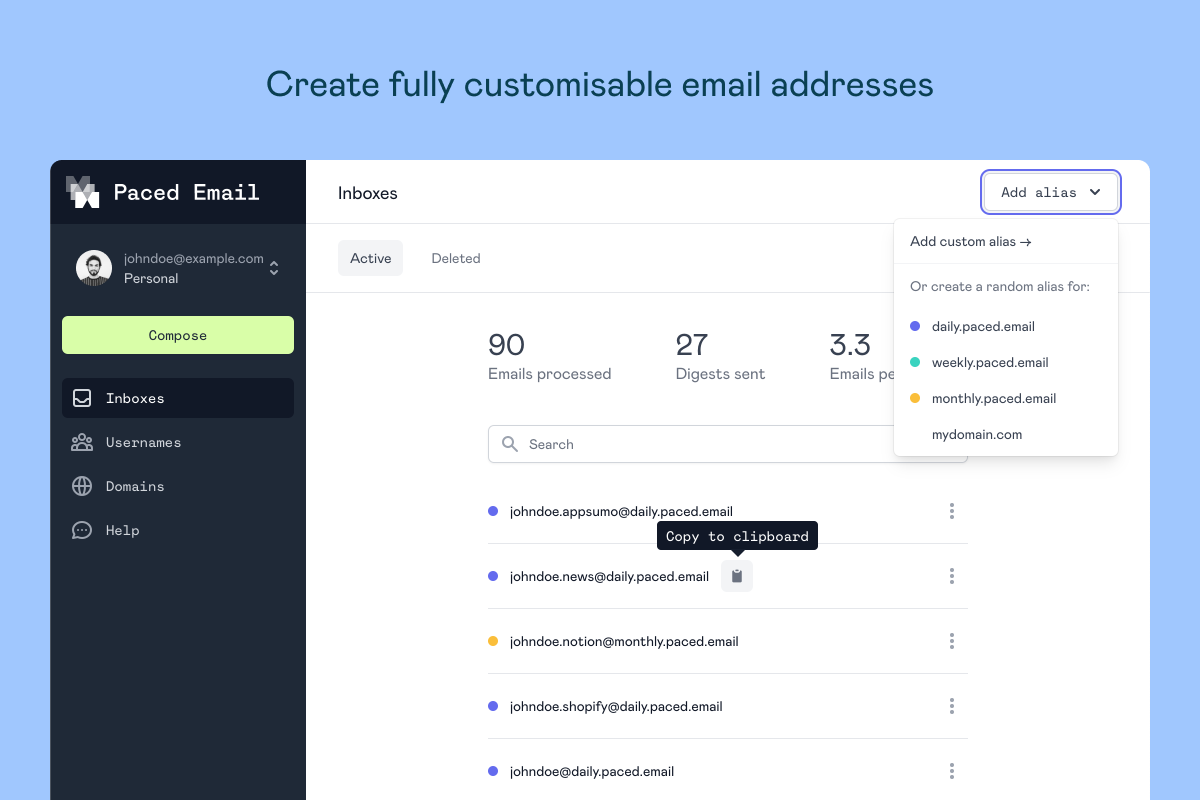 Plans and Features of Paced Email Lifetime Deal
Basic Plan Features
Getting started with Paced Email, even in a free trial, you will not be disheartened. You can start with 5 free aliases and get a 2-month free enrollment offer when you choose annual billing.
Experience Lifetime Access: You will get lifetime access and unlimited paced digests.
Get All future Premium Plan updates: Whenever any update is available, you will get all those future Premium Plans
Redeem Your Code Within 60 Days: You must get back your code(s) within 60 days of purchase
Secured with GDPR Compliant: Paced Email will ensure your protection when the processing your data with GDPR compliant
Enjoy Money-back Guarantee: If you face any problem, you will get back your payments within 60-days, no matter the reason
Premium Plan Features
The premium plan allows experience the amazing tool. Get the premium price starts from only $10 /mo. and Lifetime Deal at $59 with unlimited services.
If you are a student or your company is a non-profit organization, then here is some good news for you. A 25% discount is available to students and nonprofits.
Never Ending Inbound Email Handling: New email pains? Paced email is everywhere for you. No need to worry at all. It will handle unlimited inbound emails.
Send Emails from Aliase: You can use an additional email address to send or receive emails. Also, use unlimited anonymous email addresses to send.
This isn't over yet! Paced Email also offers the following:
Full scheduling of digest deliveries
Filtering, bypassing, and forwarding rules to triage emails
Custom your domain names with your familiar name.
Unlimited recipients for digests
Comparison: Paced Email and Burner Mail (Which One Should You Choose?)
Paced Email and Burner mail are different but they are doing the same kind of job. Paced email is relatively easy whereas BurnerMail is complex and it has lots of steps.
Start for Free for 5 Email Aliases
Only $59
Check Prices
Functionality
A Productivity Tool to Minimise Distractions
Pros
Easy and Handy
Cheapest Productivity Tool
Organized Email Management
Ready Digest for Everyday Mails
Organized
Start with a Sample for $3.99/mo
$39+
Check Prices
Functionality
 A Tool to Generate a Random Email Address
Pros
Complex Control Procedures
Generate New Burners Mail 
Cons
Disorganized
Runs in Particular Browser
Expensive for What it Does.
Comparison Between Paced Email and Burner Mail
As you can see above, Paced Mail is the cheapest and has offered you a variety of easy and handy features. It smartly manages your email and creates a digest or summary for you to overlook once daily or weekly. It saves your time and relaxes you from being distracted.
If you wanna buy other tools to create content or make your everyday job easier, then please have a look at other AppSumo deals here. AppSumo is offering lots of important software. Please check their everyday offers to get the best deals ever! Even sometimes you may get free stuff! So don't be late. 😉
No doubt! You should choose Paced Email.
What is Paced Email?
An Email Management Tool to altogether your mails and organize your mailbox. It helps you focus on work without frequent notifications but with daily or weekly digest, and get the advantage of having unlimited anonymous email aliases.
What is "Email Alias"?
An email alias is an additional email address for an email account, with which a user can send/ receive emails like your nickname besides your first name.
How do I use Paced Email?
First, create a Paced Email. Generate anonymous or personalized email addresses.
Use them anywhere. Sign up for websites and newsletters using your new email aliases.
Enjoy your quieter inbox. Your inbound emails are organized and sent to you as you have instructed the tool
Final Thoughts
To retain full concentration on work, you must relieve yourself from the Email pain. Get the ready digest for all of your mails at once. Also, it categorised the important emails to declutter your inbox, offers you lifetime anonymous mail addresses and saves your time by taking all the responsibility to organize them.
You will not find any easy email management tool than paced email. Get it now!.
Get the right email management tool, and boost your productivity higher than before. Both the price and services are satisfactory for over thousands of users. So, you can trust without any hesitation. Make decisions right now! Share your thoughts with your colleagues, and make their life easy and beautiful also.